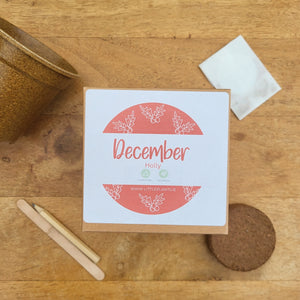 littleplants.ie
The Birth Month Flower Seed Kit December Holly
Regular price
€9,99
€0,00
Unit price
per
If you are looking for a unique and thoughtful gift for a loved one born in December, consider getting them a Birth Month Flower Seed Kit featuring the Holly plant. Holly is a beautiful and versatile plant that is known for its shiny, dark green leaves and bright red berries that are often used for holiday decorations.
Holly is a great addition to any garden as it is easy to care for and can grow in a variety of conditions. It is also a symbol of hope and joy, making it a perfect gift for someone celebrating a December birthday.
The Birth Month Flower Seed Kit is an excellent way to get started with growing Holly plants. The kit includes everything needed to grow Holly from seed, including step-by-step instructions, seed packets, soil, and a biodegradable planter. Plus, the kit is eco-friendly and includes non-GMO seeds.
In conclusion, the Birth Month Flower Seed Kit featuring the Holly plant is an excellent gift idea for anyone born in December. It is a unique and thoughtful way to celebrate their birthday while also giving them the opportunity to grow a beautiful and meaningful plant.
---