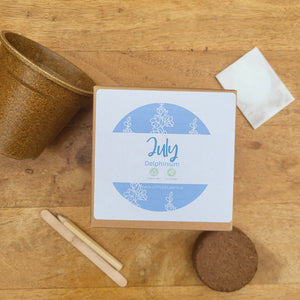 littleplants.ie
The Birth Month Flower Seed Kit July Delphinium
Regular price
€9,99
€0,00
Unit price
per
The July birth flower is the Delphinium, which is a beautiful and vibrant plant that is perfect for gardens and flower arrangements. The Delphinium is also known as the Larkspur and is native to the Northern Hemisphere. The plant is a perennial, which means that it will come back year after year when planted in the right conditions.
This kit includes everything you need to start your own garden, including seeds, soil, and instructions. With this kit, you can create a beautiful and meaningful garden that celebrates your birth month.
Delphiniums come in a variety of colors, including blue, pink, purple, and white. They also have tall, spiky flowers that are perfect for creating height and drama in a garden. Whether you're an experienced gardener or just starting out, the Birth Month Flower Seed Kit for July is a great way to grow your own Delphinium and celebrate your birth month in a unique and beautiful way.
---