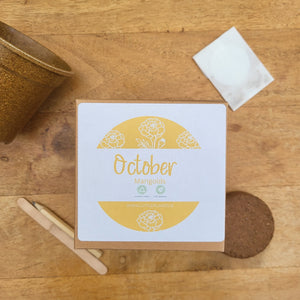 littleplants.ie
The Birth Month Flower Seed Kit October Marigold
Regular price
€9,99
€0,00
Unit price
per
Marigold is the birth month flower for October and is a popular choice for gardens and flower beds. With their bright orange and yellow blooms, marigolds add a cheerful touch to any landscape. If you are looking to start a garden or add to your existing one, a marigold seed kit is a great choice.
The October Birth Month Flower Seed Kit includes everything you need to start growing marigolds, including seeds, soil, and a pot. The kit is easy to use and perfect for beginners. Simply follow the instructions provided and watch your marigolds grow.
Marigolds are not only beautiful, they also have a variety of uses. Their strong scent can help keep pests away from your garden, and they can also be used in cooking and as a natural dye. Plus, they are low maintenance and easy to care for, making them a great choice for busy gardeners.
In conclusion, if you're looking for a beautiful and versatile flower to add to your garden, consider the October Birth Month Flower Seed Kit and enjoy the bright and cheerful blooms of marigolds.
---