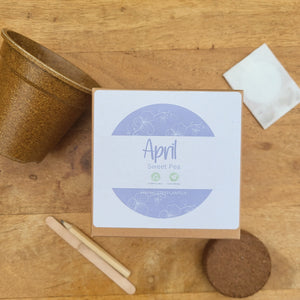 littleplants.ie
The Birth Month Flower Seed Kit April Sweet Pea
Regular price
€9,99
€0,00
Unit price
per
The Birth Month Flower Seed Kit April Sweet Pea
April's birth flower is the Sweet Pea, which is known for its delicate fragrance and beautiful range of colors. If you're looking to grow your own Sweet Peas, then the Sweet Pea Seed Kit is a great option. This kit includes everything you need to get started, including seeds, soil, and a pot.
Sweet Peas are relatively easy to grow, but they do require some attention. They prefer cooler temperatures, so it's best to plant them in early spring or late Autumn. They also need plenty of sunlight, so make sure to place them in a sunny spot.
To plant the seeds, simply fill the pot with the soil provided in the kit, sprinkle the seeds on top, and cover them with a light layer of soil. Water the seeds regularly, but avoid overwatering as this can cause the seeds to rot.
With proper care and attention, your Sweet Pea plants should start to grow in a few weeks. As they grow, you can train them to climb a trellis or other support structure. And when they bloom, you'll be rewarded with beautiful, fragrant flowers that will brighten up any space.
---