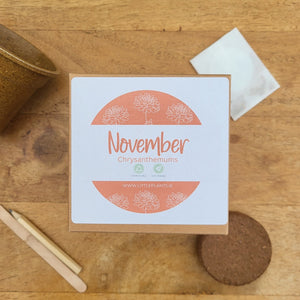 littleplants.ie
The Birth Month Flower Seed Kit November Chrysanthemums
Regular price
€9,99
€0,00
Unit price
per
November is the month of chrysanthemums, and what better way to celebrate this beautiful flower than by growing your own? The Birth Month Flower Seed Kit November Chrysanthemums is a perfect way to do just that.
This seed kit includes everything you need to start growing your own chrysanthemums. It includes chrysanthemum seeds, planting pots, soil, and instructions on how to grow and care for your plants. Whether you're an experienced gardener or just starting out, this kit is easy to use and perfect for all skill levels.
Chrysanthemums are a popular flower because of their beautiful colors and long-lasting blooms. They come in a variety of colors, from white to pink to yellow to red, so you can choose the perfect one for your garden. Plus, they're easy to care for and can be grown in a variety of conditions, making them a versatile addition to any garden.
In addition to their beauty, chrysanthemums also have a rich history and cultural significance. In many cultures, they're a symbol of happiness, longevity, and good luck. So not only will you be adding a beautiful flower to your garden, but you'll also be celebrating the rich cultural history of this flower.
---